source: https://heavyeditorial.files.wordpress.com/2019/01/kevin-douglas-limbaugh.jpeg?quality=65&strip=all
#22 - 811
Davis, CA – A witness to the murder of Davis Police Officer Natalie Corona on Thursday night said that the gunman killed the young officer and then began shooting at random people as he ran away.

"When I looked up and I saw the officer on the ground he was already walking due west toward C Street, like just shooting at what looked like random people to me," Christian Pascual told The Modesto Bee.

"The shooter had been found, deceased, inside a home near 5th and E St in Davis with what appears to be a self-inflicted gunshot wound," the Davis Police Department tweeted at 1:28 a.m. on Friday. #55 #11
3-9-6 Vortex
DAVIS, Calif. | The man who shot and killed a rookie California police officer left a letter on the bed in the home where he lived claiming police bombarded him with ultrasonic waves, officials said.

Police in the college town of Davis near Sacramento on Saturday made public the one-paragraph letter they said was written by Kevin Douglas Limbaugh, 48 (3). He killed himself Thursday after fatally shooting Officer Natalie Corona.

Police spokesman Lt. Paul Doroshov said the paper was found face up on the gunman's bed.

"The Davis Police department has been hitting me with ultra sonic (sic) waves meant to keep dogs from barking," the letter said. "I notified the press, internal affairs, and even the FBI about it. I am highly sensitive to its affect (sic) on my inner ear. I did my best to appease them, but they have continued for years and I can't live this way anymore."

The handwritten note was signed "Citizen Kevin Limbaugh." Also recovered as evidence from the man's home were two unregistered guns.

Davis police did not immediately respond Sunday to a telephone message seeking comment on whether Limbaugh had reported his claims to officials.

Investigators have not identified a motive for the ambush shooting of the 22-year-old officer as she investigated a car accident.

The Sacramento Bee reported that court documents show Limbaugh was charged and convicted in a battery case last fall, and he agreed in November to surrender the weapon.

The case stemmed from Limbaugh getting arrested in September for assaulting someone at Cache Creek Casino, Yolo County Sheriff's Sgt. Matthew Davis said.

Authorities have not determined where Limbaugh obtained the two semi-automatic handguns he was believed to have used in the Thursday night attack that killed Corona.

Police said a gunman on a bicycle ambushed the officer, shooting her from the shadows as she investigated a car accident, then reloaded and narrowly avoided wounding others before walking home.

At his house a few blocks away, he casually chatted with his roommate as if nothing happened and even went outside to watch as police from around the region began rushing to the shooting scene, Davis Police Chief Darren Pytel said Friday.

The gunman left behind a backpack that helped police track him to the house. The chief said as police began to surround it, he stepped outside wearing a bulletproof vest.

"He shouted some stuff, went back in and came back out with a firearm, then went back inside, pushed a couch in front of the door and officers heard a gunshot," Pytel said.

Police eventually sent a robotic camera in and found the gunman had shot himself in the head.

Police found the handguns in the home.

The shooting devastated the Davis Police Department, which has about 60 (6) sworn officers and about 30 (3) other employees.

Corona was the first officer in the department to die in the line of duty since 1959(6) . She had only been patrolling solo for about two weeks, the chief said.

A candlelight vigil for the slain officer was held Saturday night.
See the agenda? The EMR weapons conspiracy takes another hit when the patsy makes a computer generated note claiming EM weapons assault, then supposedly targets some random victim and then commits suicide.
The convenience of the left behind backpack sets the stage for the event. But there is more to the story

.
DOUGLAS STONEMAN
All the victims, patsies and other actors are always perfectly cast. The victims are PAGEANT WINNERS and the patsies are loose, loners, losers and loony tunes. This is what they narrate and using conspiracy fact is common. Scalar weapons are real. The info is abundant and available. Electronic harassment has been tried and won in case courts all over the world. But in this case they focus on making it again the reason to disarm and discredit any whistleblower as a lunatic and potential "postal" terrorist.
811
Kevin Douglas Limbaugh has been identified as the gunman accused of shooting and killing Officer Natalie Corona in Davis, California. Local newspaper the Davis Enterprise first published his name citing a law enforcement source.
The Yolo County Sheriff's Office has since verified his identity. The 48-year-old suspected shooter died of a self-inflicted gunshot wound during a standoff with police after Corona was killed on January 10. 1-10-19 (111)
111 - TRIPLE CROSS ON "C" STREET
Officer Corona was shot at least once in the neck while investigating a triple-car crash on Thursday. Police have said she was ambushed and likely never saw the shooter before she was hit. An official motive for the attack has not been released, but police did find a potential clue.
CITIZEN KEVIN LIMBAUGH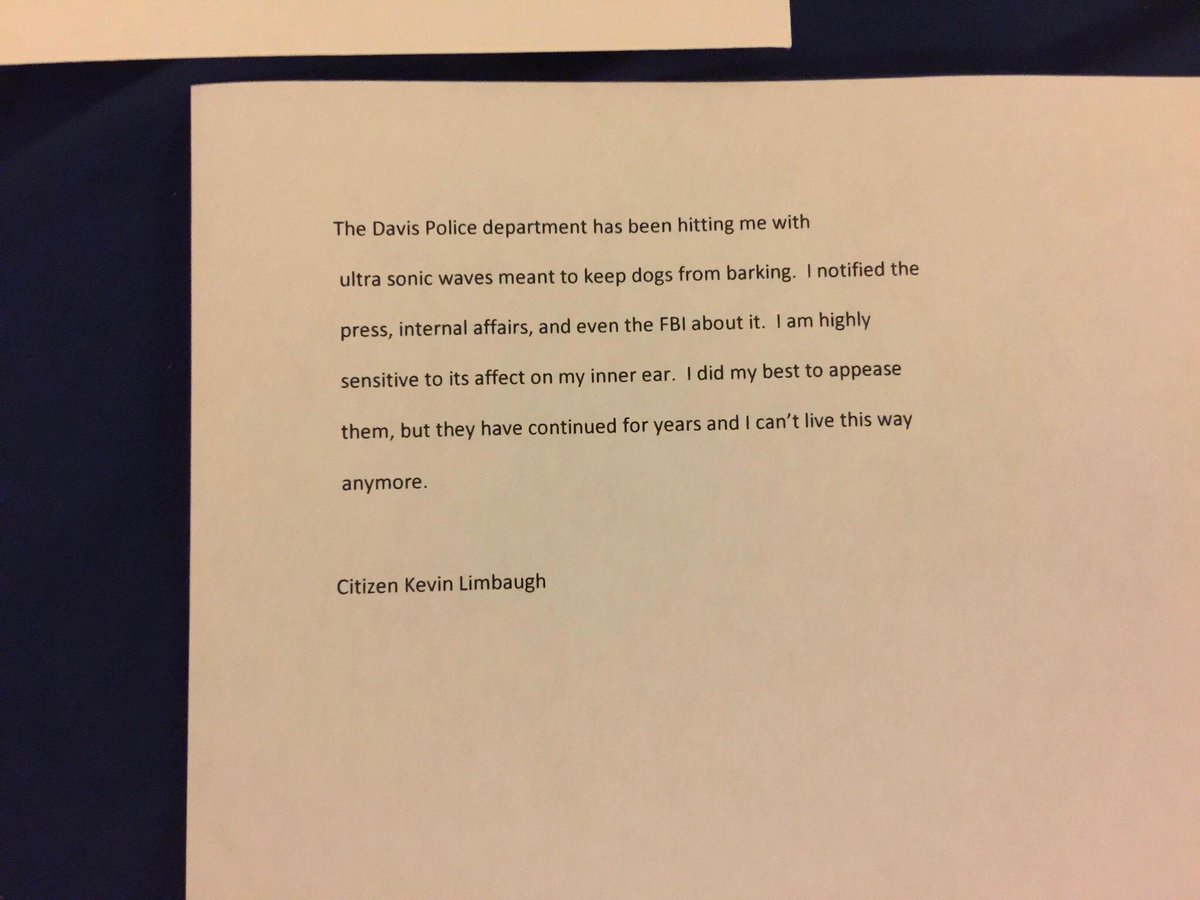 All SCRIPTED EVENTS have quick release documentation. Covert assassinations are heavily guarded, redacted or evidence destroyed.
Police said Limbaugh reloaded at least twice. He struck the fire truck, a passing bus, a pedestrian's backpack and a nearby house. He also took aim at a firefighter; luckily, the bullet only struck the firefighter's boot. No one was injured.
Convenient for staged events to have two dead and no injured. No loose ends!
Limbaugh does not appear to have any other arrests in California. He was arrested twice in Florida while living there in the 1990s, both on misdemeanor traffic-related incidents that did not result in convictions, according to court records obtained by Heavy. Limbaugh previously lived in Fort Myers, Florida; Santa Fe and Farmington, New Mexico, Riverside, California; and Mount Pleasant and Kalkaska, Michigan, public records show.
Police said the gunman who killed Natalie Corona, identified as Kevin Douglas Limbaugh, had two semiautomatic pistols. Court records from Yolo County show that Limbaugh was ordered to surrender a Bushmaster AR-15 rifle to Davis Police following his no contest plea in the assault case. He submitted the weapon to them on November 9, 2018.

(your 911 reference)
Davis Police Chief Darren Pytel commented during a news conference on January 11 that they had spoken to Limbaugh in 2018, in an incidence separate from the assault. Limbaugh reportedly claimed to have been a victim of a crime; police did not provide additional details beyond that.
This the smoking gun! Was it the electronic harassment. Had he been stalked as the patsy for this event? Was he actually the shooter or there as the OSWALD for the GRASSY KNOLL? This brings in the Fraternal Order of Freemason Criminals in most Police Departments in the U.S. There are bigger criminals in the Law Enforcement community than on the streets.
During a news conference on January 11, police said it appears the gunman simply ran around the block after fleeing the scene. Davis Police Chief Pytel said the gunman went home and spoke with his roommate, who was reportedly unaware of what had just happened. Pytel said the gunman actually stood in the front yard of the house, watching responders arrive at the scene.
Does this reinforce the fact he was not the shooter? Just the Patsy instructed to arrive at the scene, leaver his backpack and then return home? A simple hypnosis request.
The Thin Blue Line tells me this is a Freemasonic Jesuit operation and includes the death of

Officer Chatéri Payne, age 22 in Louisiana.
Corona also attracted notice last month on the Davis police's Facebook page after bringing supplies to survivors of the Camp Fire.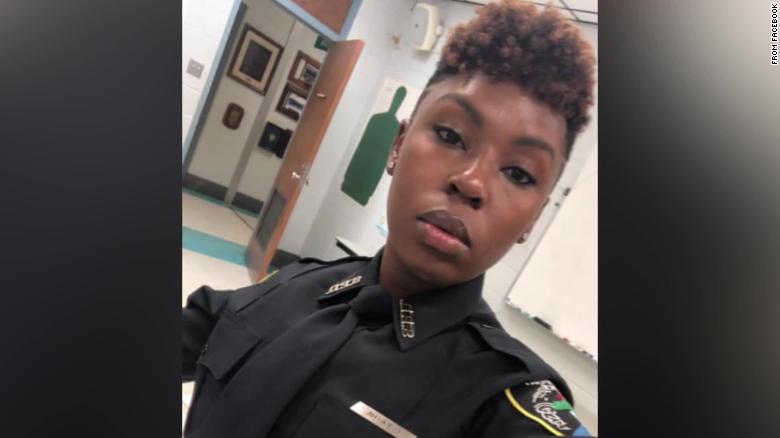 811
*In Shreveport, LA funeral services were recently held for rookie police officer Chatéri Payne. She died after being shot by her boyfriend and the father of her child in the driveway of their home.

Treveon Anderson, her boyfriend, as well as two other men, have been arrested on second-degree murder charges in connection to the killing

Anderson was arrested after his cousin, Lawrence Pierre, identified him as the shooter and told investigators where the gun used to shoot Payne could be found.

Anderson, who is 26 (8) years old, Pierre, who is 22 years old, and another man, Glenn Frierson, who is 38 (11) years old, were arrested on Tuesday on preliminary charges of second-degree murder in the January 9 death of Payne. (11)

The incident happened back on January 9 when Anderson called 911 to report that Payne had been shot. Police officers who responded found her wounded in her police uniform as she was preparing to go to work. She was taken to a hospital, where she died roughly two hours later.

Anderson was taken to a detective's office to be questioned. He initially claimed that an unknown assailant, whom he tried to chase, attacked Payne.

"He advised he was inside of the residence when he heard gunshots, and then went outside and shot at a person wearing all black clothing, whom he believed to be the suspect," police Chief Ben Raymond said. "He (claimed he) then noticed that Officer Payne had been shot.

After hearing his account of what happened, Anderson was let go by the police the next morning. However, it seems the police were suspicious of Anderson and believed all along that he was lying and he was actually the one who shot Payne.

Apparently their belief was borne out because according to a police report, Pierre told investigators in a videotaped interview "that he witnessed Treveon Anderson shoot Payne multiple times, resulting in her death." He admitted that he participated in the crime and also implicated that Frierson was present during the murder.

Pierre led the investigators to where he hid the weapon used in the murder and they have found a .40-caliber handgun, which was not Payne's service weapon, according to Raymond.

Raymond also said that the couple's 2-year-old child was at the home when the shooting happened but he believed the child didn't witness it.

But what abouty the motive for the killing? Well, so far authorities have not yet released one, but said that Pierre and Frierson were "accomplices."

Finally, the three suspects are being held on a $500,000 bail each. They are set to appear to court on April 30 for a preliminary examination. Should they be convicted of second-degree murder, they will each face a life term in prison without benefit of probation, parole or reduction in sentence.
Not sure of the connection but this contains the vortex numerology and with the timing of the event and the accounts it seems very suspicious and could also have the patsy and marks of a Freemason assassination. The fact that CNN jumped on the two events indicates the fact that both could be completely staged and or a connected sacrificial ritual killing spree by the Deep State Global Mafia

.
I will watch for a third 22 year old police killing and as always look for the 3-9-6 vortex in the information from the NWO theater and fake news media.
MINORITY REPORT
You cannot discount that both of these pageant winners are beautiful women. We never see the chunky, ugly lesbian cop get whacked. The minority report always chooses Hispanic, Black and Women as well as children to promote their gun grabbing schemes and offer up the narratives of perfect people. Happy, helpful heroines of humanity. Along with that they always manage to discredit conspiracy and tie it to mental illness via the DSM-5 agenda. These events real MK-Ultra endeavors of completely staged and faked stagings gain national attention by the corrupt media and government 21 agenda and are garnished with prefabricated biographies and adornments. Never do we see the rally for the unwashed and ugly Americans. Keep seeing beneath the veneer of this hoax and their tactics in the larger mind control agenda.