[youtube https://www.youtube.com/watch?v=d81-v5ZDYFg]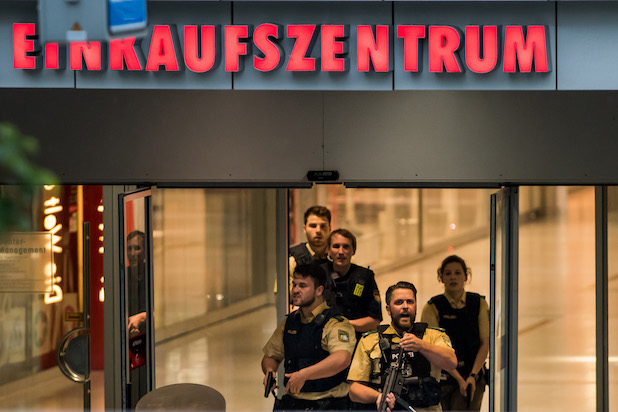 7-22 Wear Orange
right wing extremist, 3 dead, 6 dead, nine dead, eyewitness said they wore orange and black
gunman was killing the children

Grinning Obama JOKES during statement on Munich carnage as he shifts gears to say he'll miss daughter Malia when she leaves the nest for college


President Obama briefed law enforcement Friday afternoon on the unfolding mass-murder in Munich, Germany


He noted how terrorism undermines people's freedoms and lifestyles in the absence of good law enforcement


Then Obama wisecracked about daughter Malia leaving the nest for college, drawing laughter from the entire room


Unfazed, he shifted gears back to the somber subject matter


Obama had held a joint press conference with Mexico's president, one hour before the Munich carnage began, criticizing Donald Trump for exaggerating terrorism threats__________________________________


[caption id="" align="alignnone" width="452"]
No Blood[/caption]
Of course he was joking. It's a hoax. The Germans were running a drill in another part of Munich today.
"Games of Peace and Joy," Munich Summer Games - Allahu Akbar
This is a hoax. It is based on the 1972 Munich Games #44. It was staged at the Olympia Mall built next to Olympic Stadium for the games in 1972. Like then this shooter was on the roof and one was in a McDonalds. According to Crisis Actor 'Laurita' who was in the McDonalds, she hid with her two children ages 8 and 11 (811)
I suggest we see a major event of faux terror for the Brazil Games in Rio this year. Zika aside, the bioterror event could be used as the gun issue in Brazil is non issue. Possible bombing like the powder bombs used in Boston during the marathon.
August 5-21 2016